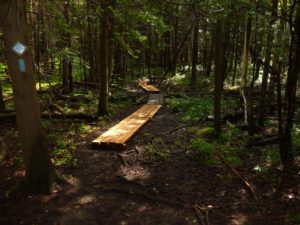 The Alton Grange property is nestled in the Shaws Creek Sub-watershed, a large important headwater area of the Credit River system. This 350-acre property is one of twenty in the upper watershed containing significant natural heritage resources.
The Alton Grange contains provincially significant wetlands, the confluence of two branches of the Credit River (Shaws Creek and the other starting near Orangeville), and rare bird and plant species. The property also hosts one of the wells that supply water to the village of Alton.
Urban development, recreation use, climate change, sewage and storm water infrastructure and aggregate extraction are placing increasing pressure on the sustainability on the Credit River water, to such an extent that the middle and lower portions of the river have been given a rating either "Fair" or "Poor". The Alton Grange is a significant contributor to the "Good" rating of the upper watershed.
As you enjoy the trails in the Grange you will realize that protecting this environmentally significant property is critical to sustaining the upper Credit River system for future generations.